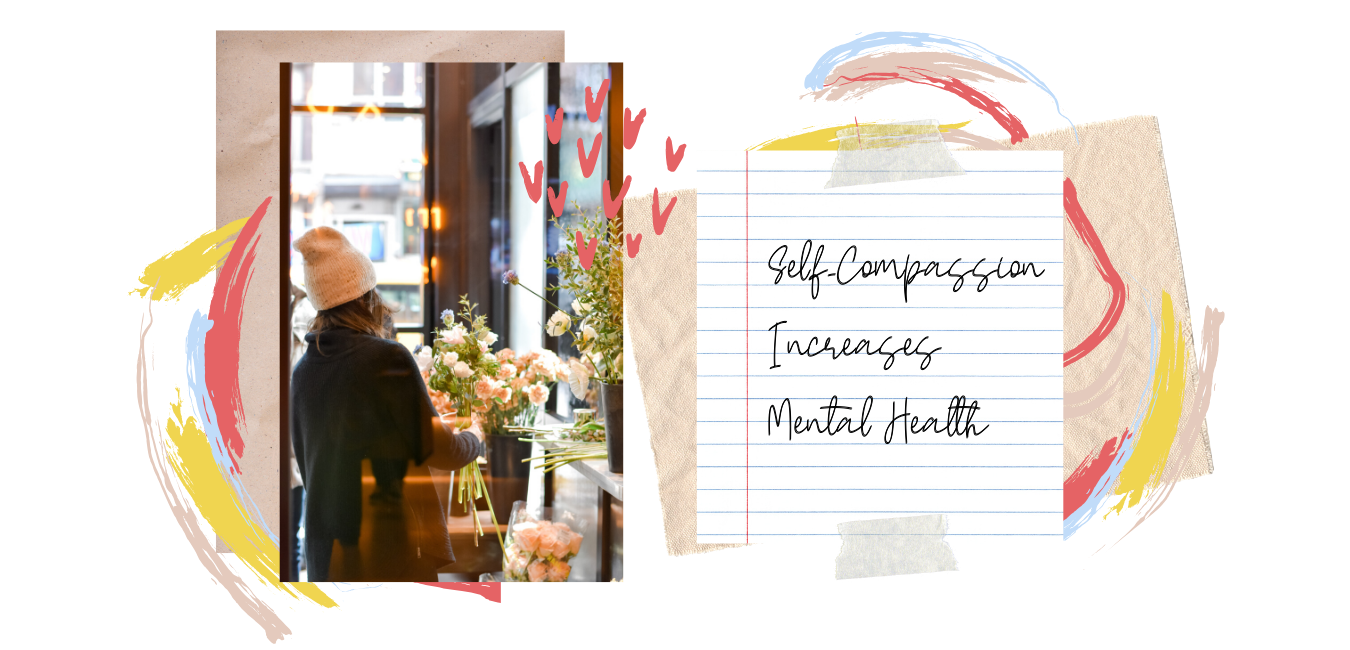 Darling,
Things may seem overwhelming, even though you wish for confidence, a bad-a** attitude and a deep understanding of yourself. So we'll be clear and straight forward in sharing one solid starting point to transform mental health and the relationship we have with ourselves.
During teenage years and young adulthood, life suddenly gets really complicated because we're handling all kinds of stressors from the outside like our academic perfomance and family and all kinds of stuff on the inside like developing our identity, figuring out who we are and what we want. These struggles can take a lot out of us and make it hard to feel confident or get unstuck from a negative space in our own minds.
Research in psychology shows that self-compassion makes a huge difference in helping us find good ways to cope with hard things, get unstuck so we can take action and lower our anxiety and depression.
We'll explain self-compassion in a bit, but first, let's look at why it's great and why it's worth putting in the effort to develop it. Research shows that self-compassion definitely increases our mental health.
One of the main things we do as young people is develop our identity and we tend to look around us and compare a lot just to figure out who we are. We're constantly evaluating ourselves, deciding if we're good, bad, attractive, smart and a hundred other things. If the way we evaluate ourselves is critical and negative (sometime just because we learned to think that way from family) we can end up with some major mental health issues like depression, anxiety and thinking about suicide.
Research also shows that as girls, we tend to be less compassionate with ourselves, make judgements, get isolated and think that we're the only ones going through a problem. Self-compassion equals less dramatizing of an event, putting ourself down or shaming ourselves.
Self-compassion promotes mental health because it uses the same biological systems as if we're receiving care from someone else and it starts to release oxytocin in our brain, a chemical that helps us feel trust, calm, safety, generosity and connectedness.
Self-Compassion is simply compassion turned inwards.
Self-compassion is our ability to hold our feelings of suffering with a sense of warmth, connection and concern.
It's made up of 3 parts:
Self-Kindess

Our ability to treat ourselves with care and understanding and not harsh self-judgement
Sense of common Humanity

We recognize that imperfection is normal and is part of being human and not feel alone in our failures or flaws.
Mindfulness

We hold ourselves in the present-moment of the experience with a balanced perspective and not exaggerating our suffering or dramatizing it.
For further reading of psychology research on Self-Compassion:
Neff, Kristin D. and McGehee, Pittman(2010) 'Self-compassion and Psychological Resilience Among Adolescents and Young Adults', Self and Identity, 9: 3, 225 — 240. 
Akin, Ahmet and Akin, Umran (2014) 'Self-compassion as a Predictor of Social Safeness in Turkish University Students', Revista Latinoamericana de Psicología 47 (1), 43- 49. 
Muris, Peter; Otgaar, Henry; Meesters, Cor; Heutz, Amber; and Van Den Hombergh, Michelle (2019) 'Self-compassion and Adolescents' Positive and Negative Cognitive Reactions to Daily Life Problems' Journal of Child and Family Studies 28, 1433 – 1444. 
What would you say to yourself if you treated your self like a best friend?
---